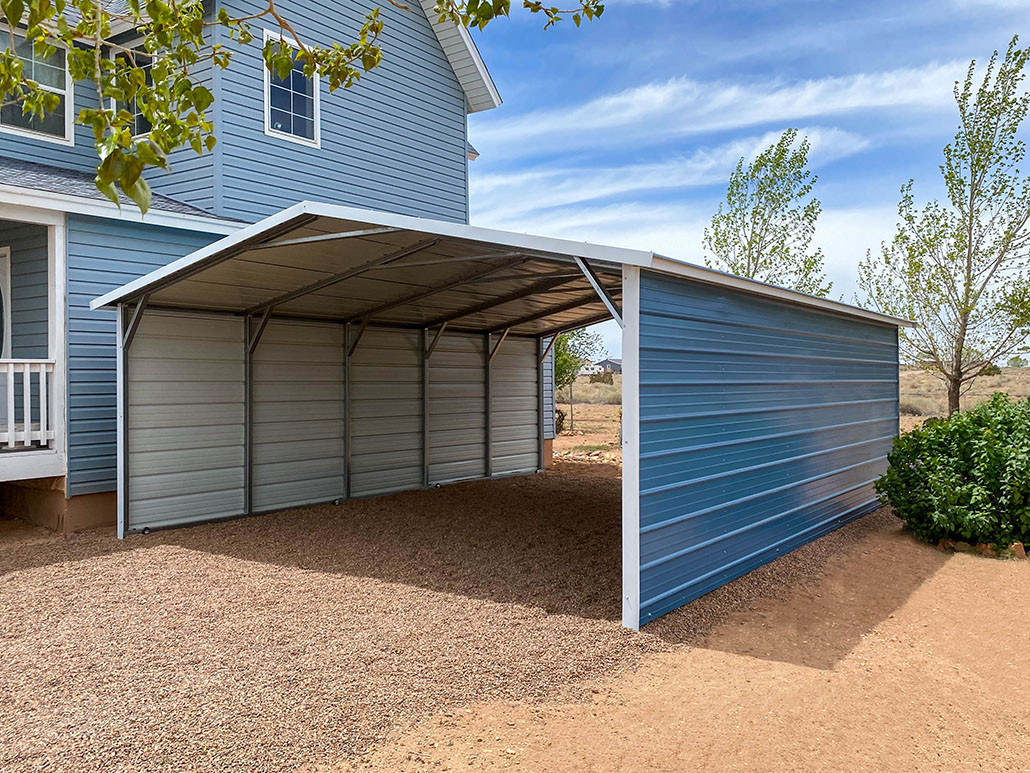 1
Bracing
All recommended bracing included
2
Base Rail
Foundation for our buildings
3
Side Wall
Sides going all the way down
A metal carport is a great way to keep your vehicles or other items safe from the weather. At American Steel, we offer a full range of options to help you get the best carport for your needs. Browse our horizontal carports below, or build a custom structure today!
There are many decisions to make when you pick out a carport. You'll need to decide on the size and shape of the carport, the color, and some other factors. Among those other factors is the orientation of the roof, which is a more important element than it might seem at first. There are two main categories—horizontal roof and vertical roof. Each has its own strengths and weaknesses to consider.
Why Choose A Horizontal Roof?
If you are considering a horizontal roof carport from American Steel, you were probably attracted to one thing above all else—the cost. Simply put, a horizontal carport is going to cost less than a vertical carport in nearly every instance. The horizontal layout of the roof means that less structure is needed beneath it, lowering the overall cost. You certainly need to think about more than just saving money when making your decision, but when trying to stick to a tight budget, horizontal roof models are often the way to go.
What's the Tradeoff?
Think about what will happen when precipitation lands on a horizontal roof as compared to a vertical roof, and you will understand the tradeoff that you'll be making with this purchase. A vertical carport does a great job of shedding rain and snow, since the roof panels are oriented in such a way that it can just flow right off without any trouble. In a horizontal orientation, that precipitation is going to need to move off the front or the back, instead of the sides.
That's a less-efficient option, and it means that your carport may not be able to get rid of rain and snow quite so easily. With that said, some buyers are not going to need to concern themselves with that issue. For instance, if you live in a dry environment where heavy rain or snow is uncommon, the horizontal layout might work perfectly for your needs. Or, if the carport is going to be set partially under some trees where it will have a degree of protection from rain and snow, the horizontal pattern may work beautifully.