An uninsulated metal shed can be, well… cold. If you plan to work in your shed during all times of the year, you'll want to add insulation to make it more comfortable. Not only that, but insulating the shed can make it a better home for whatever you plan to store inside. Here are a few key tips on how to insulate a metal shed.
Want to build an affordable, custom metal structure? Use the Build & Price tool from American Steel, Inc. to select your preferred features, view a 3D rendering, and get an instant quote!
Fiberglass Batting
For many metal shed owners, the key piece of the puzzle on insulation is going to be cost. If you are trying to keep the cost of your insulation to a minimum, fiberglass batting will be the way to go. This is a product that you can likely install yourself. Even if you do hire a contractor to do the work, it should bed one promptly and not at a significant cost.
Of course, as is usually the case with something that is inexpensive, you do have to make some sacrifices. Specifically, you will have a soft interior wall in your shed that you will have to be careful not to damage while working on a projector storing items (unless you add another wall covering, which would increase the price of the project). So, while fiberglass batting is the most affordable choice, it's worth your time to think about some other possibilities before making your selection.
Flock Spray
Flock spray is another great option. You can choose to have this insulation sprayed into place in your shed. While this will need to be done by a contractor, the cost may not be as bad as you'd think at first. A quality spray can offer impressive insulating properties, and the whole job can be done in a short amount of time. Since the spray expands and conforms itself to the space you have available, this type of insulation is great for buildings with unusual designs or small nooks and crannies that need to be filled.
Board Insulation
Some metal shed owners will choose rigid board for their insulation. The performance of this product is largely based on the thickness of the board, with thicker boards naturally being better insulators. Of course, you will pay a higher cost when you want to purchase thicker insulation, but thinner boards are available for lower prices if you don't need robust insulating power. For the shed owner with a few DIY skills, it may be possible to install board insulation without the help of a contractor.  
Think About Your Situation
There are many types of insulation available on the market today, many of which are suitable for metal sheds. The key here is to think about your needs, your environment, and other factors. Does it get particularly cold where you will be building your shed? Are you going to be storing things that are sensitive to temperature changes? Each situation is different, so the right insulation solution for you may not be the right choice for someone else.
It's also worth keeping in mind that insulation does more than control temperature. It can also help to contain sound, which might be important if you are using loud machinery within your shed. For instance, if the shed is close to your house and you want to muffle the sound so it doesn't bother those inside the house, using quality insulation can be a big help. Whatever you decide, be sure to work out your insulation plan in advance, so any necessary accommodations can be made when designing your shed and having it constructed.
One Last Point
If you are going to be doing work inside your shed and want to make sure the work space is bright enough to work safely and easily, consider the reflectiveness of different insulation options. Some insulation choices provide better brightness on their facings than others, so don't overlook this subtle but important point.
Build A Custom Metal Structure With American Steel Carports, Inc.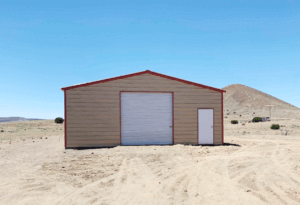 When the time comes to order a metal shed to add to your property, American Steel Carports, Inc. is the perfect place to shop. We have a long history in this business, a great reputation among our previous customers, and plenty of customization options. If you have any questions about our products, please contact us right away for assistance. Thanks for visiting!
clickgiant
https://americansteelinc.com/wp-content/uploads/2020/05/ASCI-Logo-Text_s-300x74.png
clickgiant
2019-07-17 17:53:07
2020-08-06 18:55:01
How to Insulate a Metal Shed