As you consider your options for a new structure on your property, two possibilities may come to the front – pole barn vs metal carports. Each of these choices is extremely popular, and they both have plenty to offer. With this post, we'd like to help explain some of the differences so you can decide which building is the right pick for your project. 
If you decide that a metal carport is the right choice, you don't have to look any further for help with that job. American Steel Carports, Inc. offers durable, affordable buildings that can be completely customized to suit your needs. To explore the possibilities, visit our Build & Price tool to see what you can create. If you'd like assistance from a member of our team, just contact us and we'll be happy to help.    
A Classic Option
Those who go with a pole barn will certainly have tradition on their side. This type of wooden building has been used for generations, often on farmland to create indoor space for storage, animals, etc. When built properly, a pole barn can be a large, sturdy structure that will serve the needs of the property nicely. 
But it's a mistake to make your choice on tradition alone. There are options available today that simply weren't available decades ago, so it's best to consider alternatives before placing any orders. One of the biggest developments in this area over recent years is the use of metal as a building material. Whether for carports or other structures like lean-tos, sheds, and garages, metal brings a lot of advantages to the table. 
Why Metal Over Wood?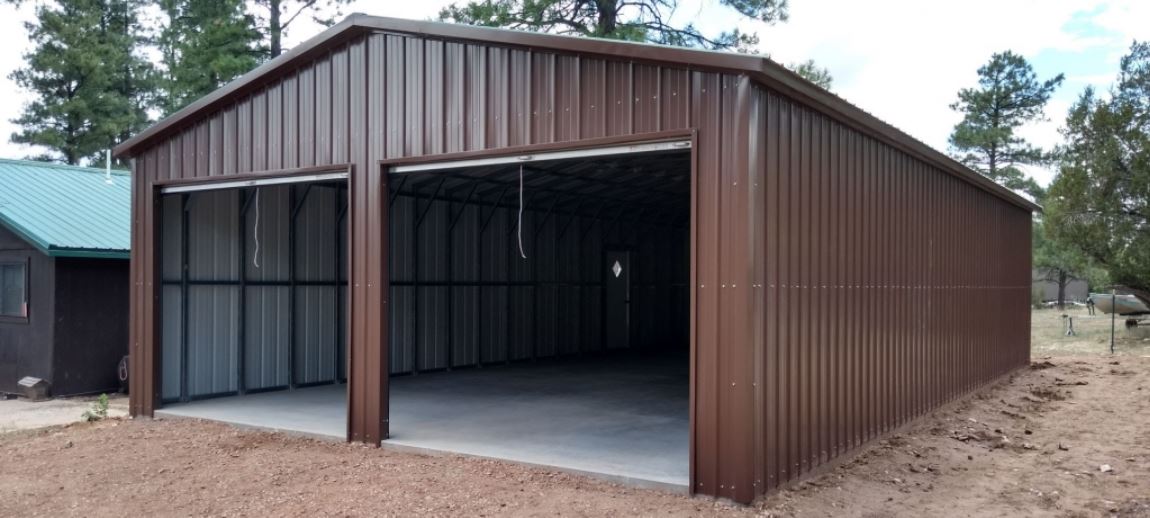 It's hard for some property owners to make the switch from wood to metal as their building material of choice. The reason for this, most likely, comes back again to tradition. Wood has long been the go-to material for this kind of project, so it's assumed that wood is the best bet. 
We don't agree. We are proud to sell metal structures because of the many benefits they offer, including the following:
Affordable cost.

In most situations, a metal carport will cost less than a wooden pole barn to construct. Everyone loves saving money on a project like this, especially when the result is still a high-quality structure that will serve all your needs. 

Minimal maintenance.

You have plenty of other things to do with your time than care for one of your buildings. Metal needs very little maintenance over the years, so you can point your attention in other directions. 

Custom options.

One of the huge benefits of going with metal is the ease with which you can customize your order. We make customization a breeze at American Steel Carports, Inc., so there is no reason that you can't come away with exactly what you had in mind. 

Extreme durability.

When you order from a trusted company, you can expect your new metal building to serve your property well for many years to come. 
A Purpose-Built Structure
The most important outcome for any building project is that the finished product properly serves your needs – both now and into the future. It's worth taking as much time as you need to think about what this building will be used for before you finalize the plans and begin construction. Don't just throw up a building and figure out how it will be used later. Stay ahead of the game so you know the structure is going to make your life easier. 
It's building to a purpose that is so much easier with a metal carport. If you need easy access for large pieces of equipment, for example, you can leave one or both sides of the structure open. Or, if you need to protect from the elements that come in from one prevailing direction, add a wall to that side while leaving the other side open. Plan on storing some large equipment in this space? Build your carport particularly tall to make room – it's easy to go higher with metal due to its low weight. Whatever your use case happens to be, the metal carport can be adapted to those needs beautifully. 
Metal Carports Made Easy
With so much to offer, including quick construction times and modest overall costs, metal carports are the way to go. While a traditional pole barn may still be a good option in some situations, most buyers are going to be served far better by a customized metal structure. Get your project started right away by contacting us for more information. We are excited to serve you!
https://americansteelinc.com/wp-content/uploads/2021/07/metal.jpg
684
845
clickgiant
https://americansteelinc.com/wp-content/uploads/2020/05/ASCI-Logo-Text_s-300x74.png
clickgiant
2021-08-06 13:28:38
2021-08-06 13:28:38
Pole Barn vs Metal Carport: Which is Right for You?