Red Iron vs Galvanized Steel Buildings
Adding a new building to your property is a big decision. Not only is there a financial investment involved, but this is one of those decisions that is not easy to reverse. Once the building is up, you won't want to take it down anytime soon. So, it's worth doing your research to get this right on the first try.
In this article, we are going to discuss two of the primary options on the market today for new buildings—red iron and galvanized steel buildings. Each option has its benefits, and they are both quite popular for commercial and residential properties. In this post, we'll discuss the pros and cons of each, so you can make the best decision for your needs.
If you decide to go with a steel building, choose American Steel Carports. Our Build & Price Tool makes it easy to customize your structure and receive an instant quote!
Durable Either Way
Let's start off with a feature that both of these types of buildings bring to the table—durability. With both red iron and galvanized steel buildings, you'll be getting a structure that should hold up well over time, even in a harsh climate.
One of the reasons red iron and galvanized steel buildings have gained popularity as compared to wood structures is the way they can perform over time. If you would like to put a building in place and trust that it is going to serve you well for many years ahead, opting for either of these materials is a smart move.
Light on Maintenance
Not only are these structures excellent in terms of durability, but they also require very little maintenance. Here, we again see a point that favors both of these kinds of buildings. As long as you keep them clean and inspect them periodically, you should be good to go. Limited maintenance is nice from a time-saving perspective, and it will also reduce the overall cost to own one of these structures.
A Purchase Price Advantage
Speaking of cost, one of the deciding factors that will likely come into play when making your purchase is the upfront cost of your new building. That cost includes both the cost of the building's components as well as the construction/installation process. On this point, we see galvanized steel buildings take the lead, as they will typically come in with a lower overall cost.
That cost savings is generally related to the quicker installation process for a steel structure. Red iron buildings will often be welded together to create the finished building, which means more man-hours are required to complete the job. That labor isn't free, of course, so the final bill will usually be higher with red iron.
Consider the Timeline
If you have a deadline to have this project completed, meeting that deadline will be easier if you choose galvanized steel. Again, this comes back to the construction process being simpler with galvanized steel than red iron buildings. Steel buildings can be erected in a shorter timeframe. Getting the building completed quickly might be an important piece of the overall project puzzle, especially if winter is closing in and you need to have the building done before the cold weather arrives.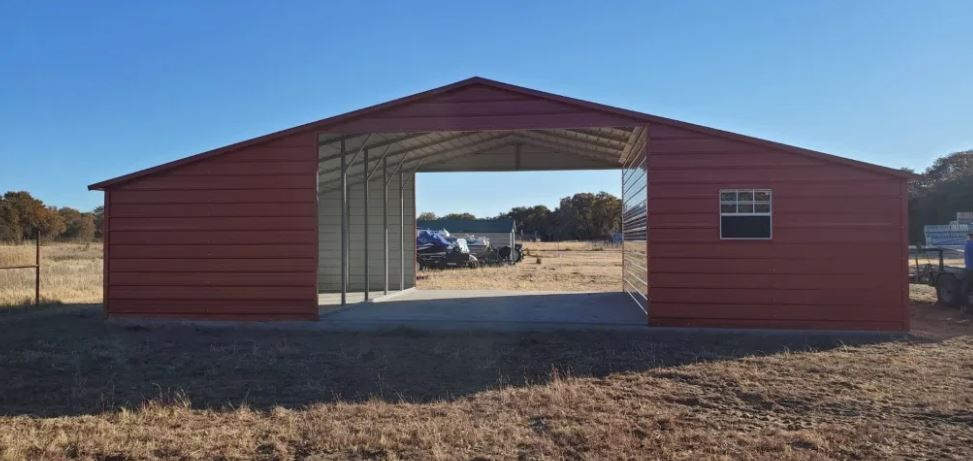 Create a Custom Design
At American Steel Carports, Inc., we are big on offering custom solutions. We want each of our customers to get exactly what they want—and rarely does that mean purchasing something that hasn't been designed specifically for you. If you would like to customize a design that will suit your property perfectly, you'll again want to lean in the direction of a galvanized steel building.
Once you get into the design process, you will find that there is very little you can't accomplish with a galvanized steel structure, especially when you work with a talented and experienced team such as ours. There are nearly endless options and possibilities, so the finished product should be precisely what you had in mind.
While red iron buildings have a lot to offer, and are the right choice for many projects, we think the majority of buyers will find that galvanized steel buildings will check off more from their wish list.
Order Today
If you'd like to see what is possible when you order a steel building from American Steel Carports, Inc., start by trying out our Build & Price Tool. If you have any questions along the way, feel free to contact us at your convenience. Thank you for visiting!

https://americansteelinc.com/wp-content/uploads/2020/10/carports2.jpg
480
974
clickgiant
https://americansteelinc.com/wp-content/uploads/2020/05/ASCI-Logo-Text_s-300x74.png
clickgiant
2020-11-25 15:18:30
2020-11-25 15:18:30
Red Iron vs Galvanized Steel Buildings