One of the great things about traveling in an RV is how it can protect you from the elements when the weather turns bad. An RV is a significant upgrade over a tent largely because it lets you travel freely without having to worry about the weather while camping. When not camping, however, it's a good idea to keep your RV out of the elements. By covering your RV when it is not in use, you'll protect its condition and help to extend its useful life. There are a few RV cover options to consider, as we will discuss below!
A metal RV carport or garage from American Steel Carports, Inc. will provide your RV with a safe and sheltered place to live. Use our Build & Price Tool to create a custom structure that best fits your needs.
Why Cover Your RV?
Before we discuss some of your options for this project, let's quickly highlight why it's important to cover an RV while it is being stored. Motorhomes and trailers are meant for use outside, of course, so it's easy to think that they don't need to be covered. However, extended exposure to harsh elements could cause your RV to develop problems sooner than it would have otherwise. Here are some of the most important reasons to cover your RV:
Sun Damage. Leaving your RV out in the sun throughout the year—especially in a warm climate—is likely to do damage to the roof. You may find that seals crack and then leak when wet weather returns, and you might have cosmetic damage to the side of the rig, as well. Keeping the sun off your RV as much as possible is a huge step toward a longer life span.
Flying Debris. If your property has many trees, branches and other debris can come down off the trees and land on the RV if it is not covered—especially during a heavy storm.
Snow Buildup. For those who live in a cold climate, letting snow accumulate on the RV's roof all winter long could result in damage. Snow can become quite heavy as it piles up, especially when it starts to melt and becomes wet. A cover will keep the snow off your RV and help to preserve its condition—and your investment.
You don't have to cover an RV while it is stored, but you will almost certainly pay the price in the form of additional repairs and maintenance down the road. If you regularly eave your RV uncovered, you may even have to replace the RV sooner. To avoid all that, invest the time and money necessary to set up an effective covering system for your rig.
Top RV Cover Options
Anything that keeps the elements off your RV can serve as a cover, but some methods will be more effective than others. Let's look at some of your choices so you can determine which is best for your situation:
A fabric cover. There are fabric RV covers sold for just about every rig on the road today, so you should have little trouble finding one for your model. While these covers will keep rain and debris off your RV, they offer minimal protection in the end. Snow can still accumulate on the roof, and moisture may become trapped under the cover—potentially leading to mold and mildew problems. Also, this is a rather inconvenient solution, as you will need to manually put the cover on and take it back off again each time.
An RV carport. We are proud to offer custom RV carports here at American Steel Carports, Inc., and this option is a huge upgrade over a fabric cover. With this approach, you will get a solid roof over the top of the RV, keeping the elements off the motorhome or trailer throughout the year. The sides are open on a standard carport, but our customization options allow you to add one or more walls for added protection if you'd like.
A dedicated garage. Building a garage specifically to house your RV is the ultimate cover. With this approach, your RV will live indoors while not in use and it won't be exposed to any elements. Remember that a typical RV is taller than a passenger vehicle, so you will need a roof and doors that are tall enough to accommodate your rig's dimensions. We'd be happy to help you create a custom metal garage to meet all of your needs!
Build Your Metal RV Cover Today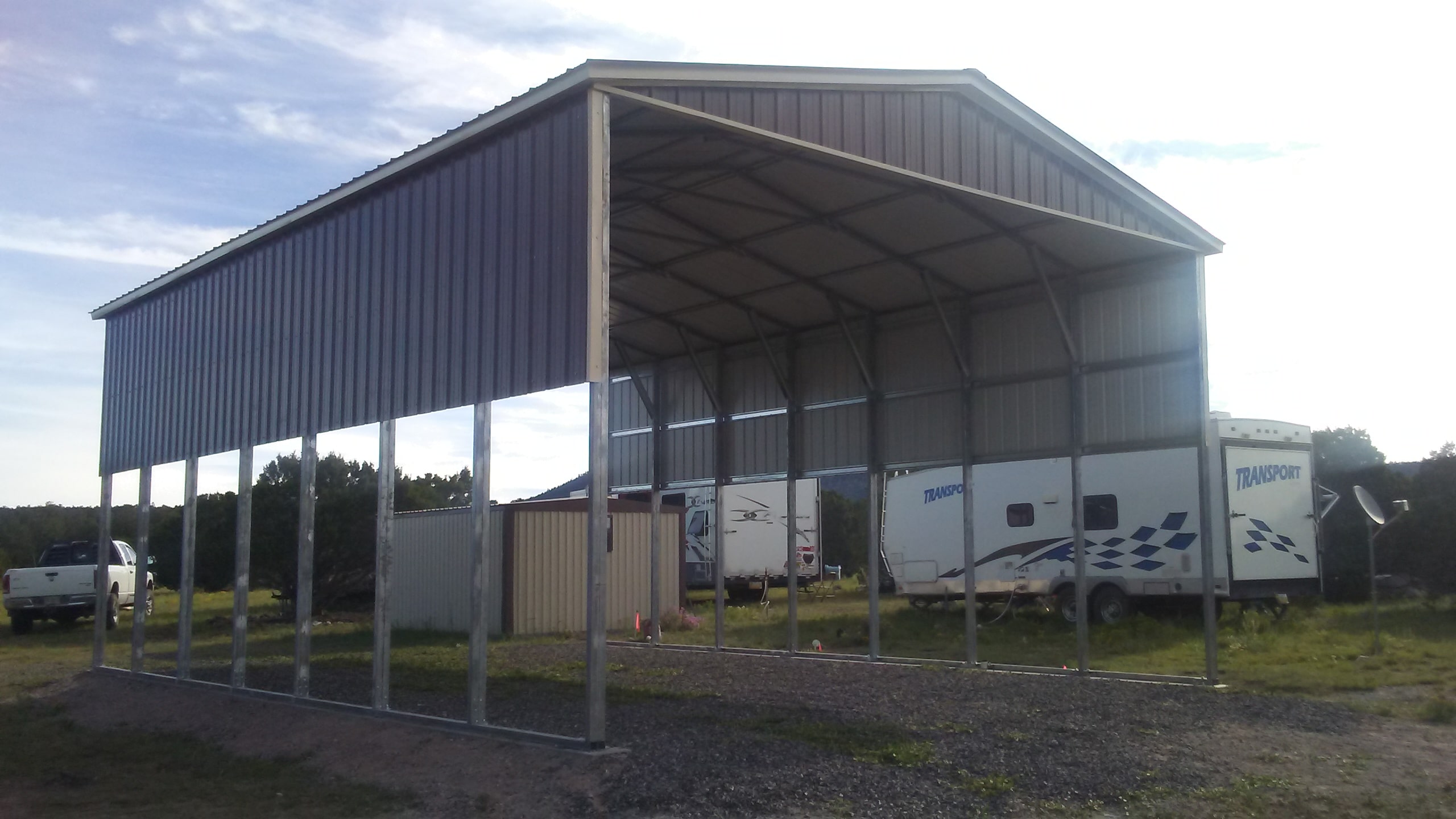 A metal structure is the best way to cover and protect your RV. Reach out today to American Steel Carports, Inc. today to build your custom RV carport or garage!
https://americansteelinc.com/wp-content/uploads/2021/08/pexels-evan-chasteen-4263840.jpg
851
1280
clickgiant
https://americansteelinc.com/wp-content/uploads/2020/05/ASCI-Logo-Text_s-300x74.png
clickgiant
2021-08-11 19:03:42
2021-08-11 19:03:42
Top RV Cover Ideas to Protect Your RV