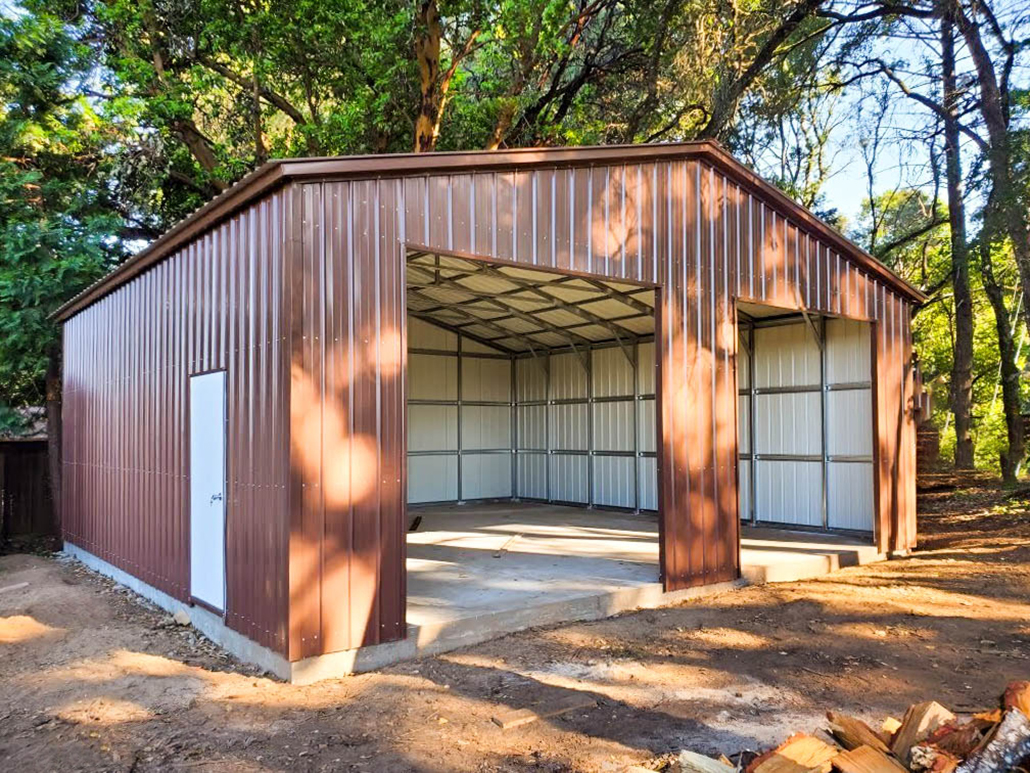 1
Ridge Cap
Only in vertical roof. Prevents rain or debris from getting inside.
2
Walk-In Door
36"x80" walk-in door.
3
Roll-Up Door
10'x10' roll-up door.
Does your home check off everything on your wish list—except for a garage? If you are lacking the garage space you desire to park vehicles and work on projects, American Steel Carports can help. Our metal 2-car garage options are perfect for those who want indoor parking or workshop space on a budget. Browse our pre-made designs below, or start your custom garage build today with our Build & Price Tool.
Endless Possibilities
If you were to opt for a wooden garage, you'd be fairly limited in what you could produce. Sure, there would be an opportunity to add a few custom features, but garage would likely look like most of the others in your neighborhood. The story is different when you choose steel.
By selecting a steel 2-car garage from American Steel Carports, you can customize the design to suit your needs perfectly. Metal is a versatile building material thanks to its relatively light weight and impressive durability. Want to know if something you have in mind is possible? Try our quick and easy Build & Price Tool, or contact us for assistance.
Accommodations For All Vehicles
Continuing the idea of customizing your garage to meet your needs, you can decide how large you need the openings to be in order to accommodate your vehicles. If you are planning on moving small cars in and out of the garage, a standard door will be just fine. But what if you have a large SUV? These vehicles will require bigger doors, and that's easy to achieve when you work with us.
The Right Roof
The roof on your garage is the first line of defense against the weather, so make sure you pick out the right one for your situation. When you work with us, you can choose from A-Frame and Standard roof designs, with either horizontal or vertical siding. If you would like to speak with an experienced member of our team for advice on picking the right roof, contact us today.