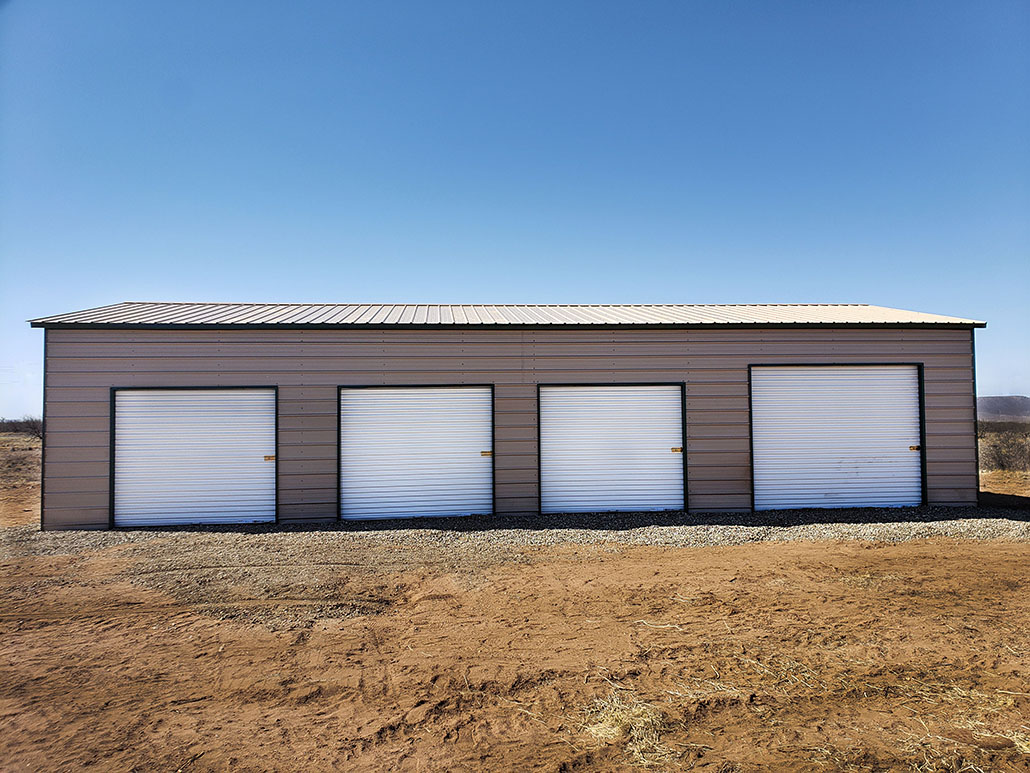 1
8×9 Roll-Up Door
More sizes available
2
10′ x 10′ Roll-Up Door
More sizes available 
3
Vertical Roof
With panels running from the peak towards the eave and additional hat channels underneath for support.
For many, it's a dream to have a 4-car metal garage on their property. With such a large indoor space to work with, there will be very little limitation on what you can accomplish. For the car enthusiast, such an expansive garage provides plenty of parking and the space needed to work on restoration projects. Even if you don't consider yourself a gearhead, you may wish to add a 4-car garage to your property for purposes such as woodworking or other creative trades. To learn more about the options we have available, browse our pre-made designs below, or contact us today.
Commercial or Residential
Needless to say, a 4-car garage offers a ton of interior space for you to use for just about any purpose you can imagine. It might be that you want all of this space for your personal hobbies—or you may need it for professional use. With enough space for four cars, it's not likely that you will feel crowded anytime soon. When you work with us, we can help ensure you get all the customizations you need for your exact purposes.
A Large Level Space
Before you get too far down the road of planning your garage project, make sure you have a large, leveled space available for construction. Once you've found the perfect location, simply place your order, and we'll take care of the rest. Shipping and installation are included in the cost of your new garage. Our team will act quickly and professionally to get your garage set up in no time.