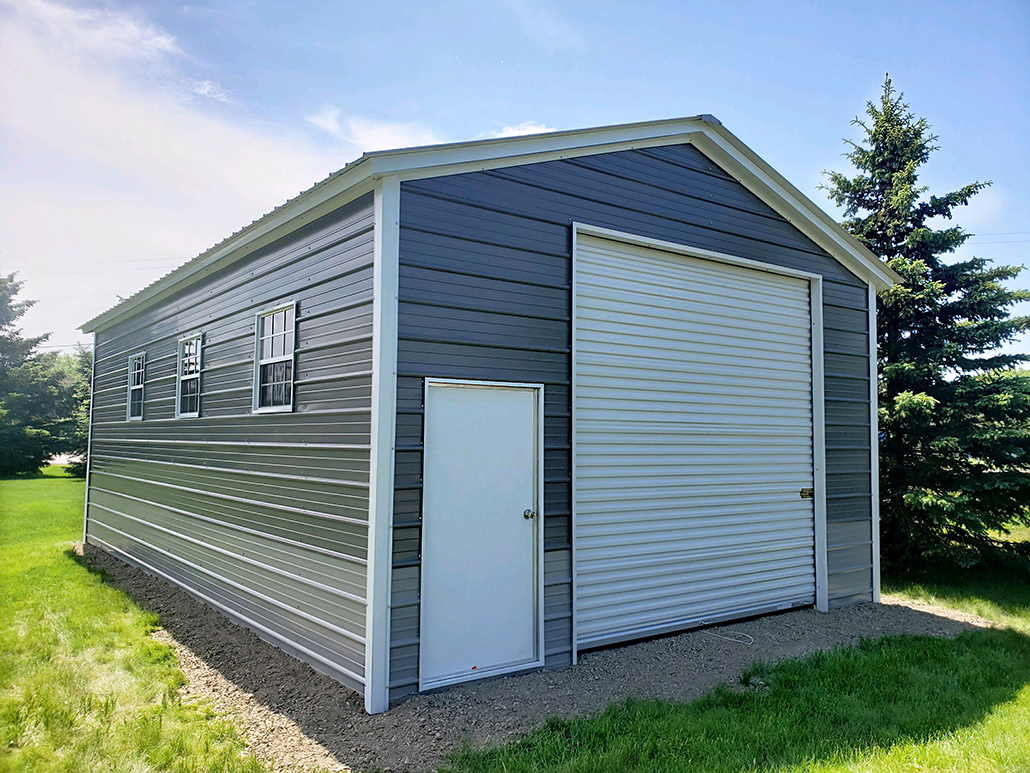 1
Windows
30″ x 30″ Window – More available sizes available.
2
Walk-In Door
36″ x 80″ Walk-In Door. More sizes and models available.
3
Roll-Up Door
10′ x 10′ Roll-up door. More sizes available.
A garage needs to be many things. It needs to be a safe place for your vehicles and other items to rest, and it often needs to provide you with a place to work. In addition, it needs to be strong enough to hold up to the elements. If you live in a place with particularly harsh weather, an A-Frame garage may be the best style for you. Browse our pre-made designs below, or start your custom garage build today with our Build & Price Tool.
Horizontal or Vertical Roof?
You don't need to work in construction to understand what an A-Frame garage is, or why it is desirable. The roof is shaped like an 'A', and thanks to that shape, this kind of building does a great job of dealing with tough weather conditions. What you might not know, however, is that there are two distinct styles of A-Frame steel garages that we offer—vertical and horizontal roof.
These names reflect the orientation of the metal sheets that form the roof. A horizontal A-Frame is one that has the sheets running horizontal along the roof, while these run up and down in a vertical model. Generally speaking, a horizontal roof will be more affordable, as less structure is required under the roof for support. On the other hand, the vertical orientation helps to shed precipitation, so it is commonly the right choice when heavy snows are expected. Also, a vertical roof will be preferred for larger garages.
Other Key Features
There are other features you may want to add, such as windows, doors, wainscots and more. This is where working with American Steel Carports will really pay off. Since we are able to customize the design of your structure to meet your needs nicely, you can plan on getting exactly what you desire in the end. Some customers will want only a basic structure with a roll-up door and little else, while others will want a walk-in side door, multiple windows, and more. The choice is yours.