A canoe is a great way to explore the waters near where you live. However, when not in use, your canoe will need a suitable place to live. Keeping it in a strategic place can protect it from the elements and provide you with additional convenience. Read on to discover some of the top canoe storage ideas that will help keep your boat in great shape.
American Steel Carports, Inc. offers a variety of metal buildings that are affordable, fully customizable, and ideal for canoe storage. Use our Build & Price Tool to explore the many possibilities for your new structure, and receive an instant quote!
The Basics of Canoe Storage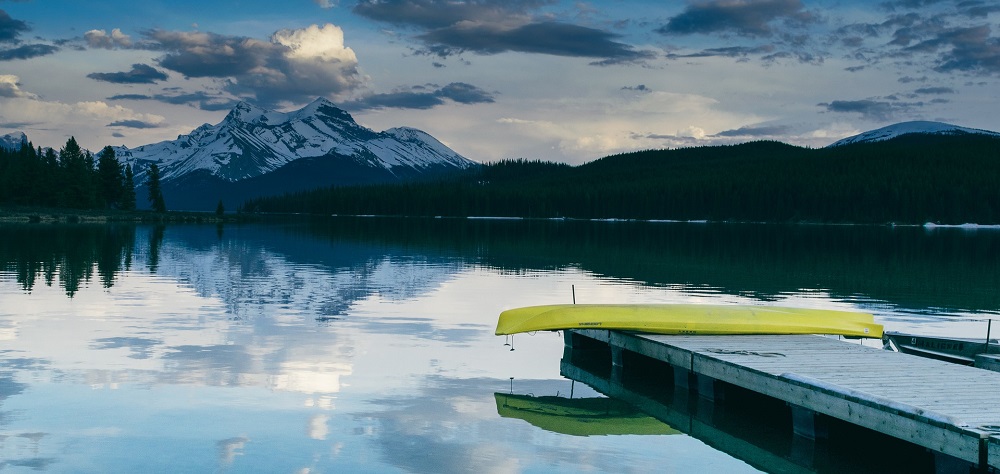 Canoe storage doesn't need to be complicated. By following a few general pieces of advice, you can keep your canoe safe until it's time to head back on the water. The three basic tips listed below are great starting points as you develop a storage plan:
Store Your Canoe Inside
It seems like it would be okay to store a canoe in the elements since it's a vessel that's meant for outdoor use. However, storing a canoe outside is going to cause its condition to degrade faster than it would otherwise. Specifically, direct sunlight day after day can do significant damage over time. If you don't have an option for storing your canoe indoors, at least provide it with some kind of cover so the sun doesn't beat down directly on the boat.
Upside Down Is Best
Turning your canoe over and storing it upside down is the favored option for most canoe owners. The side rails of the canoe—called the gunwales—are the strongest spot to allow the canoe to rest while it's in storage. Leaving your canoe to rest on the ground on its bottom can lead to deforming of the hull.
Find A Secure Location
Many canoes are light enough for a single person to carry. That means they're fairly easy to just walk off with if left in an exposed spot. While no location is completely theft-proof, do what you can to make it harder for someone to access your canoe while it's stored. Placing it inside of a locked building will make it a lot harder for a theft to occur as compared to leaving it out in the open on your property.
If you can store your canoe inside, upside down, and in a locked space, you will have gone a long way toward protecting it for the long run. This will not only help your canoe last for years, but it will also make your experience as an owner more enjoyable. The canoe should be in good condition and ready to go whenever you get the urge to take it out for a paddle.
Use a Canoe Storage Rack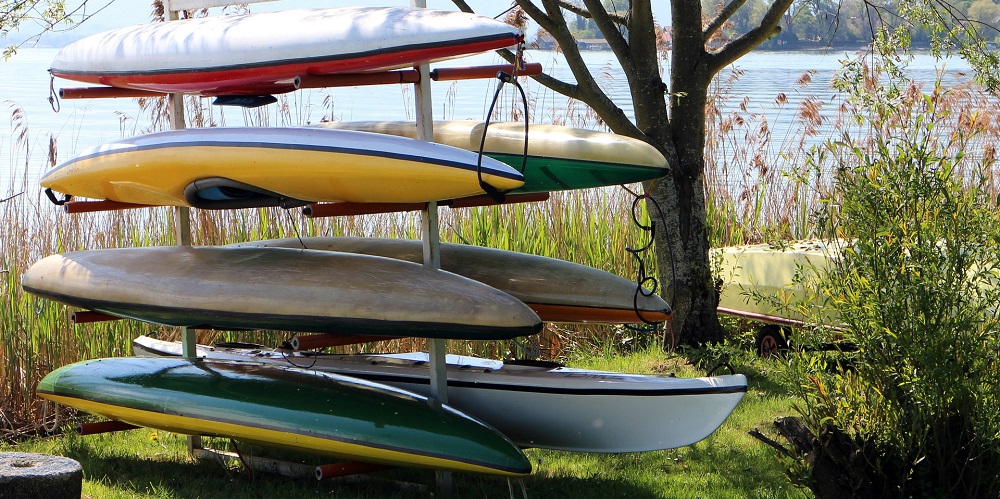 So, we've discussed that you should be storing your canoe upside down to protect its condition. But how do you make that happen? You'll need a canoe storage rack, which you can either buy or build. Creating your own from basic lumber is a pretty simple project. However, there are plenty of racks on the market that you can purchase if you don't want to take on a DIY job.
When shopping or planning a canoe rack, keep in mind the dimensions of your boat. It may go without saying, but a big canoe is going to require a big storage rack. Plus, since this rack is going to stand on the floor, make sure you have enough room in your intended storage spot to place the rack without any trouble.
Creating a Dedicated Space
If you have an attached garage as part of your home, storing your canoe in that space may be your first thought. What's more, if there's room in the attached garage that isn't being used for other purposes, that may be a viable solution. Of course, many people have their garages already packed full of cars and other items, so making space for a canoe storage rack may not be possible.
As an attractive alternative, consider adding a new metal structure to your property. Metal buildings come at a lower cost than wood structures and they can make a perfect home for a canoe. In addition to giving your canoe a place to live, you may be able to set aside space in this new building to handle some of your other storage needs.
Work With American Steel Carports, Inc.

We hope these top canoe storage ideas assist you! The structures from American Steel Carports, Inc. offer an affordable, simple solution to your storage needs. We offer everything from small sheds to large steel structures so you can design the building that's perfect for your property. We look forward to serving you!

https://americansteelinc.com/wp-content/uploads/2021/04/ascp16.jpg
568
1116
clickgiant
https://americansteelinc.com/wp-content/uploads/2020/05/ASCI-Logo-Text_s-300x74.png
clickgiant
2021-04-28 14:30:58
2021-04-28 18:43:38
Top Canoe Storage Ideas